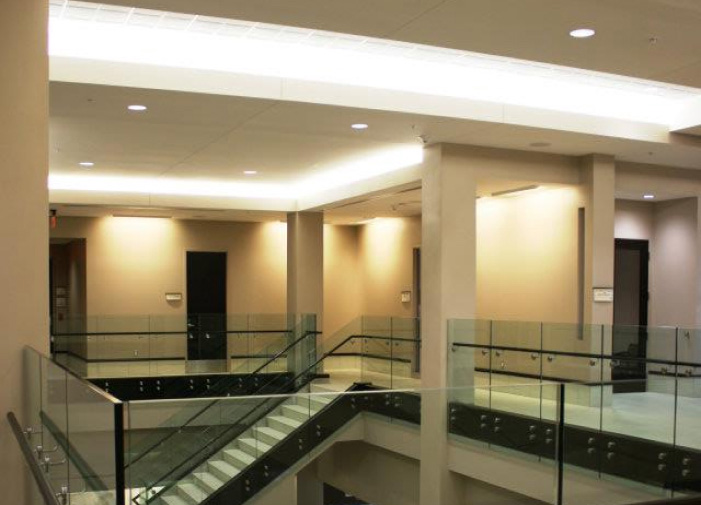 Foster-Jacob is as dedicated to our commercial jobs as we were in 1933. Our experienced estimators, project managers and electricians provide quality installation, service and maintenance for all sized jobs. Our skilled electricians are all IBEW trained, OSHA 30 Certified and drug-tested. They provide excellent service and support.
Foster-Jacob is a registered Program Ally of the Ameren Illinois ActOnEnergy Efficiency Programs. The Ameren ActOnEnergy program offers a variety of cash incentives and resources to encourage your business to invest in smart energy solutions.
We can help your business cut costs by helping you pick the right incentive for you, assisting in energy efficiency upgrades, and helping with the paperwork Ameren requires. You can find more information at www.actonenergy.com/business.
Commercial Services Include:
New Construction
Additions
Service Upgrades
Maintenance
Churches
Schools
Park Districts
Government Facilities
Retirement Communities
Health Care Facilities
Remodel/Renovations
Lightning Protection
Commercial Projects
OSF Ministry Headquarters |
$10,000,000
Renovation of a historic 275,865 sq ft building with seven levels, a penthouse, basement and sub-basement, originally built in 1905. Due to the block's historic landmark status, the Illinois Historical Society and National Park Service had to sign off on everything. Along with providing a renewed space for 600 staff members, the building will utilize a café and curated outdoor areas to further engage the public and reinvigorate the community for decades to come. Completed in 2022.
ISU Bone Student Center |
$4,200,000
Revitalization of the four-story, 118,669 sq ft, 47-year-old campus hub, which has 5,000 daily visitors and hosts more than 4,500 events each year, was much-needed. This work consisted of the main renovation which included Brown Ballroom, Welcome Center, relocating the catering kitchen, redesigning the loading dock, renovating the vacated second floor catering kitchen space to accommodate an expanded food court and Student Involvement Center, a new bookstore, improving entrances on the building's west side, and renovating offices. The Concourses were renovated in two phases and there was a new restaurant added. Completed in 2020.
Bradley University Hayden Clark Alumni Center |
$1.7 Million
The Hayden-Clark Alumni Center is an expansion of Bradley Hall, Bradley University's founding structure constructed in 1897. The addition is styled after Collegiate Gothic architecture featured across campus, with a limestone exterior that matches the character of the existing building. The central tower is topped with four hand-carved gargoyles, two of which match those atop Bradley Hall and two that represent the campus' western expansion.
Livingston County Courthouse Remodel |
$860,000
To renovate the circa-1875 courthouse, we repaired the building's windows, wood trim, doors, wainscot, and other finishes. The HVAC, plumbing, fire protection, security, and IT systems were replaced. The county supported our vision for restoring the courtroom space to its full height and original design, bringing the vaulted ceilings, hidden for years behind acoustic ceiling, back to life. In addition to the courtroom renovation, the main hallway and staircase were restored, offices were remodeled and reconfigured, and the basement was remodeled.
Bradley University Westlake Hall |
$770,000
Our modernization of the second oldest building on campus has made Westlake Hall six times its original size, with a new center atrium, classrooms, labs, resource areas, an auditorium, offices, and conference spaces. All spaces in the building now provide students with an inviting place for collaboration, supporting cross-disciplinary study and problem-solving.
Methodist College of Nursing |
$1 Million
126,000 square foot renovation of an existing building.
St. Mary's Cathedral Renovation |
$71,000
Work Included: Re-plastering and repair of water damage, stained glass window restoration, altar and furnishings restoration, new marble flooring in the nave and sanctuary was installed, new painted angels installed in the apse in the sanctuary, and a beautiful blue ceiling was painted the length of the nave – decorated with the heavenly theme of a starry night sky.
What Our Customers Say
"I could have not been more please with Teri. She told me every step of the way what she was going to do. She's a great tech. Thanks so much."
Anonymous